Today was morph scan day!!

My mum came with me as DH is away at work. I'm not sure who was more excited-me or her!

As soon as the technician started we saw a wiggling baby and beating heart. Cue sigh of relief.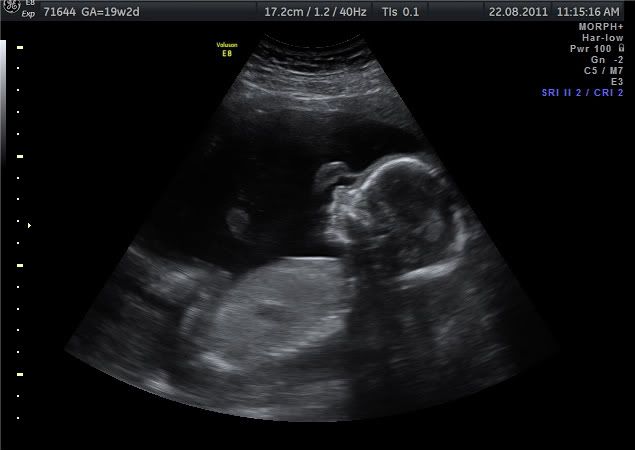 Next she asked if I wanted to find out the sex, and luckily baby obliged by spreading legs nice and wide! There was no denying that HE is most definitely a HE!

For the rest of the scan he was wiggling and kicking and waving and rolling around. The poor technician was struggling to get some of her measurements. At one point I even had to go empty my bladder (oh the relief!!) to try and help move him into a better position. Luckily it worked and she was able to get everything she needed to.

I don't think I could ever get tired of watching my baby up on screen. It was just lovely to watch him moving around, see his heart beating (and hear it), and get a close look at all his tiny little organs. Mum was amazed. She couldn't believe how clear the scan was compared to what she had while pregnant with my sister 22 years ago (she didn't get any scans while pregnant with me). I think she was super excited to see her first grandbaby wiggling around.

Once we finished I called DH and tried to convince him that the baby was actually a girl and that our ob had been wrong. He believed me for about a split second before he realised I was joking. He is over the moon about having a son. The joy in his voice was just beautiful (and I'm sure there would have still been joy if we were having a girl).

The only thing that I am slightly worried about is my placenta. The tech mentioned that it is on the low side and that I will need to come in for another scan at around 34 weeks to check and see if it's moved. She did say that in most cases the placenta has moved by the time ladies come back for the 2nd scan. After some Googling I have found that if the placenta doesn't move up it can lead to 'placenta praevia' which means the placenta covers the cervix. I am trying not to dwell on it now. It does sound like that the majority of the time the placenta rights itself and there are no problems. Will have a discussion with my ob about it next week to hear the professional opinion.

I don't want to leave this post on a downer note, so instead I will share with you all, my 19 week bump.